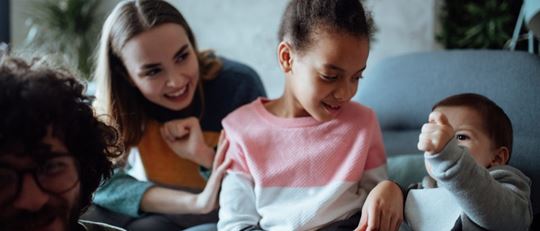 Fostering when you have a child of your own living at home can be an enriching and rewarding experience that your whole family benefits from. Children who foster learn valuable life lessons, such as sharing, caring for others, empathy and lots more.
According to a survey conducted by The Fostering Network, one of the key deciding influences in becoming a foster carer is that they want to offer children the opportunity to be part of their family.
As well as recognising that in some situations being part of a family is beneficial to foster children, foster carers who choose to foster while raising their own family with their children still living at home believe that they and their family also benefit from fostering.
In fact, The Fostering Network's survey found that 59% of foster carers think that fostering would be a good thing for their family to do. And with 52% of foster children living with their foster carers after their 18th birthday, the benefit of fostering for both foster children and foster families can have a lifelong positive effect.
With the number of children in the care of local authorities rising each year, foster care placements are always in demand with a need for more foster families every year.
We spoke to parent blogger, Elizabeth, from Where Roots And Wings Entwine to get her take on fostering children when you have your own children living at home.
"As a parent, I believe that families who decide to foster while their children still live at home are amazing and are truly admirable. Even though I have not personally fostered, I have a number of close friends who do and have seen the rewarding benefits of fostering children in need.
As I believe that fostering is a challenging yet worthwhile experience that can benefit the whole family, we hope to foster in the future when our children are a little older but still living at home. I believe that fostering while you have children are at home can not only provide a loving home for a vulnerable child in need, but also teach your own children about caring for others, compassion and sharing.
In my opinion, it is important though to consider the impact fostering will have on your own children and discuss the process with them to make the experience one that the whole family is happy being part of."
Share this article on your social media channels via Twitter and Facebook to spread the word about fostering while children are still living at home to help promote awareness about the benefits of fostering and the vital need there is for more foster families.
If you're considering becoming a foster carer but unsure whether fostering is right for you and your family, receive friendly, non-obligatory advice from our fostering team today – simply, fill in our online form and we'll be in touch.