The fostering panel is the final step in the process to become a foster parent, and for many, it's the step they're most anxious about. However, it's important to know that we'd never let you get to this stage if we didn't believe you had what it takes.
What happens at a fostering panel?
The fostering panel involves an independent group of professionals and care experienced individuals who will review your fostering assessment, ask you some questions and make a final recommendation on your suitability to foster.
Although it can seem daunting, you'll be very well prepared and supported throughout, so there's really nothing to worry about. Read more about the fostering panel below or jump to welcoming your first child.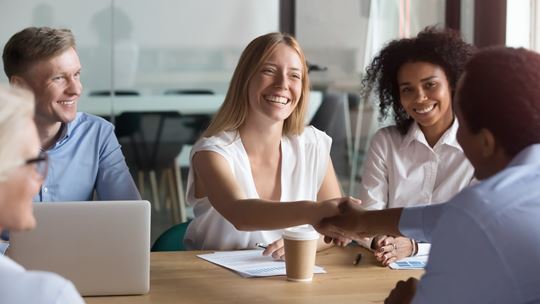 Who sits on a fostering panel?
There are usually between six and ten people invited to attend panel meetings, all with experience of fostering or working with children in a professional capacity.
The panel might even include people who have been in foster care themselves, so there's quite a big team with many different skills and experiences who can read your assessment report from different perspectives. Along with these, there will be somebody taking notes and minutes.
Then, of course, there's you and your assessing social worker, who's been with you throughout the whole process, so you're not alone!
Fostering panel interview

questions
It's different for everyone and depends on you and your circumstances. If you're a single applicant, for example, questions might cover your working hours or your wider support network. If you have your own children, they might ask you about this.
There's no set list of questions and so it's difficult to prepare in advance. Having said that, the questions are about you and you'll have been building up to this moment throughout your assessment, so just relax and know that you wouldn't have got to this stage if we didn't think you were suitable for the role.
The fostering panel takes around an hour. After that, you'll wait outside while the panel members have a discussion, before calling you back in to give you some feedback. The panel will then advise our agency decision maker on their recommendation, who will make the final decision about your approval.
By phone
One of our team is available to talk to you over the phone to answer any of your fostering queries.
Enquire online
You can get in touch by filling out our online enquiry form with any queries that you may have.
Your local office
We have local teams covering most of England. Find your local office today.