There are many children in care who have complex health needs and disabilities, including children with mobility, sensory or learning disabilities, such as autism, ADHD and hyper activism.
While neglect and abuse are the most common reasons for children entering care, not every child will have experienced this. Some have complex health needs or disabilities where the parent either can't cope or are unable to meet their needs, and so the child may be taken into foster care.
Fostering a child with disabilities can be short-term or long-term, or respite care when foster parents provide a short-term break while their birth parents take a rest.
We need even more foster parents who can meet the complex needs of children with disabilities, while also making sure they stay in regular contact with their birth parents. Experience is beneficial for this specialist type of foster care, but we provide high levels of training to equip you with the skills you need to care for children with disabilities.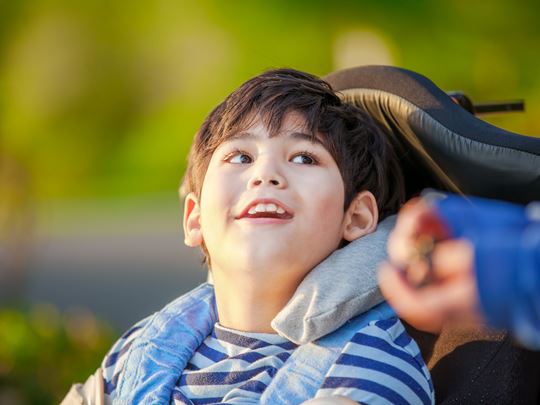 Disability 

fostering pay
You'll receive a generous weekly fostering payment for each child in your care, together with other allowances for religious holidays and birthdays, all designed to reward your professionalism and commitment.
Plus, you'll have access to our rewards platform where you can find hundreds of discounts to some of your favourite shops, restaurants and family experiences.
Are you suited to fostering disabled children?
To foster children with disabilities, you'll need the skills and qualities all foster parents need, but the work can be more physically demanding and time-consuming. You'll need high levels of patience, and be extra vigilant in terms of safety when you're caring for a child. You should also be prepared to regularly manage medications and care routines.
Can you foster if you have a

disability?
It's absolutely possible to foster a child if you have a disability yourself - so long as you're able to meet the needs of a child in care and that the demands of fostering won't have any adverse effects on your own health - we believe both are equally important. 
Each individual's circumstances are different and will be assessed fully during the fostering application. A number of our foster parents have a disability and it can help immensely in understanding the experiences of the child. We welcome applications and, needless to say, offer a huge amount of support to help you in your work.
Ready to start your fostering journey?
By phone
One of our team is available to talk to you over the phone to answer any of your fostering queries.
Enquire online
You can get in touch by filling out our online enquiry form with any queries that you may have.
Your local office
We have local teams covering most of England. Find your local office today.