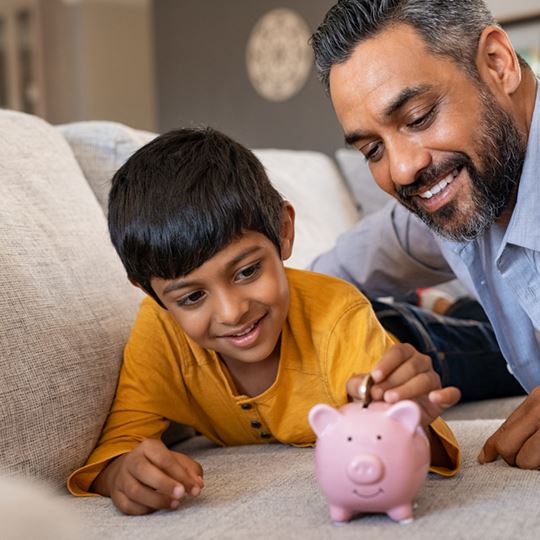 The rising costs of essentials, like food and energy, have left many of us feeling the pinch. So here are just some ways you can make your money go further as a foster parent.
Here at Orange Grove, we also provide a generous financial support package for our foster parents and have awarded our foster parents with a 9% uplift in the past year alone. We also offer lots of other perks and benefits to help with the day-to-day costs of fostering, including a birthday and annual festival allowance, and access to hundreds of retail, leisure and dining discounts.
Whether you're new to fostering and starting out on your journey, or are currently fostering, keep reading for some money-saving tips that will help you save where you can and make your money go further.
10 top tips for saving money for foster parents
1. Budget carefully
When it comes to managing your fostering allowance and making the financial support that you get for your child stretch further, budgeting carefully is essential. It's a good idea to spend some time making a list of everything you are going to need to buy for the child in your care, both when it comes to getting them set up in your home and the ongoing cost of caring for them. The organisation you foster with might also be able to negotiate a one-off payment with the local authority to help with clothing and other essentials if the child has arrived with very little.
Once you've bought everything that your child needs, the ongoing cost is the main one to focus on. Go through this and consider if there are any areas where you can save money. For example, buying clothes second-hand from charity shops or online marketplaces, such as eBay and Vinted can help you save a lot in comparison to buying brand new.
2. Plan ahead
Planning ahead is your best friend when it comes to managing your money and saving as a foster parent. When Christmas comes around, for example, any foster parent wants to make sure that the child in their care really feels the magic of Christmas with decorations and plenty of presents under the tree, but this can get costly. Planning ahead gives you the chance to spread the cost over the year or a few months, rather than forking out for it all at once. Things like school uniforms, new shoes, and new furniture for your child can also be planned for in advance to help you spread the cost and make it more manageable.
3. Discount schemes for foster parents
There are a number of different discount schemes available to foster parents. The Blue Light Card is one of the most popular, which has over 15,000 brand partners and provides savings to foster parents on the things they love. This includes discounts to Sky, Pizza Hut, Cineworld, Sports Direct, and more.
Our foster parents also have access to our exclusive reward platform, which includes incredible discounts to a whole range of retailers, insurance providers, sports and leisure facilities, travel companies, and more.
4. Use loyalty cards
Signing up for as many loyalty cards as you can find is always a good idea and is one way that you might find useful when it comes to making your money stretch further as a foster parent. For example, signing up to rewards cards and apps from popular supermarkets such as Tesco or Asda allows you to earn points that can be swapped for vouchers or cash each time you shop. Or you can take advantage of cheaper prices on essentials you need for your household, ultimately allowing you to make your fostering allowance stretch further and save money that you can spend on your foster child elsewhere.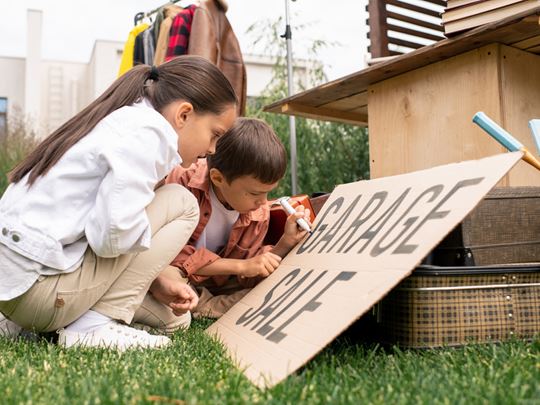 5. Buy second hand
These days, there's no shame in buying items second hand – not only is it cheaper, but it's also much better for the environment as you are saving items from being thrown away otherwise. Buying second hand items is not only a great way to help you save money on your regular expenses as a foster parent, but it can also be an ideal way to teach the child in your care about sustainability and making eco-conscious purchases. There are plenty of places where you can find almost anything you need second-hand, such as eBay and Facebook Marketplace, or even local charity shops.
For example, if you're setting up a bedroom in your home for the child's arrival, then it's worth looking for good quality essentials such as a bed, wardrobe, and drawers that are being sold second-hand before you hit the shops to buy brand-new.
6. Plan activities in nature for free
Sure, an afternoon at the local trampoline park followed by dinner out can be great fun, but it can also be quite a splurge.
Instead, there are lots of other fun ways to spend an afternoon that don't cost you a penny. For example, go blackberry picking in autumn and make a tasty warm crumble together when you get home. Or grab a rounders kit and picnic, and spend an afternoon burning off energy at your local park. With a little creative thinking, you can make time in the great outdoors just as appealing as any other activity without breaking the bank.
7. Meal plan
Feeding the child in your care a healthy and nutritious diet is an important part of your role. But the cost of food can get quite expensive when you have another mouth to feed. Meal planning is a simple yet effective way to save money when it comes to the food that you buy, as it allows you to plan exactly what you need and avoid spending money on food items that go unused throughout the week. It can also be a great way to bond with the young person in your care as you can go through meal ideas and recipes together and give them the chance to make some suggestions or requests when it comes to the menu for the week.
8. Sell things you don't need
Depending on how long you are fostering your child for, they might end up getting through a lot of stuff. As children grow, they may no longer fit into their clothes and might need new furniture such as a bigger bed in their bedroom. There might be toys and games that they are no longer interested in as they get older. Selling things that you no longer need can be an ideal way to make some money back for any necessary replacements and upgrades. There are plenty of places where you can sell things that your child doesn't need or want anymore including Facebook Marketplace, eBay, Gumtree, and even local car boot sales or tabletop sales. Only sell items that you have bought for the child, and make sure they're happy for you to get rid of it. Other items that they no longer use but have sentimental value should be kept somewhere safe.
9. Use cashback apps
Using cashback apps can be an ideal way to save money on regular purchases that you need for your home. Apps like Topcashback can be great for earning some additional money on the purchases that you would have needed to make anyway. You can find cashback offers for plenty of shops and earn money on buying anything you need for the child in your care like furniture, clothes, toys, essentials and more. Some of the best cashback deals are on household essentials like insurance, broadband packages, and utilities, so it's definitely worth checking this out before you sign up for anything new.
10. Use libraries
Reading is an ideal way for kids to learn but it's also great fun too. If the child in your care loves to read, then it's only natural to want to support this and provide them with as many books as you can. But buying books can get pricey. Local libraries are not only a great way to get access to books free of charge by borrowing them, but they are also often main community hubs where you can find a lot of support, activities and more for you and your child.
When you foster a child with Orange Grove, you will have access to excellent financial support to ensure that you can get everything your child needs to thrive. Keep these money-saving tips in mind to ensure that your fostering allowance stretches further.
Ready to start your fostering journey?
By phone
One of our team is available to talk to you over the phone to answer any of your fostering queries.
Enquire online
You can get in touch by filling out our online enquiry form with any queries that you may have.
Your local office
We have local teams covering most of England. Find your local office today.