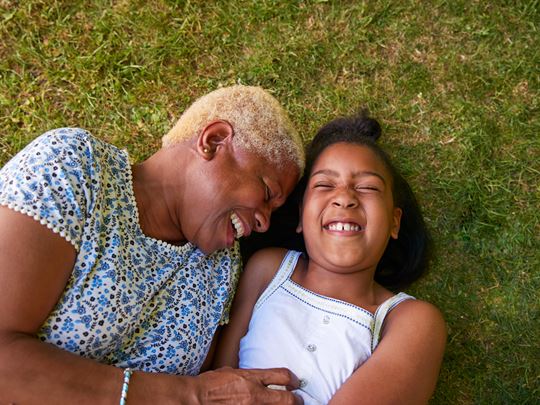 People often think you have to be married, in a long-term relationship, or have your own children to become a successful foster parent. But it's simply not true. You can be single and foster too.
In fact, almost 30% of our foster parents are single, and they're achieving incredible things with the children in their care.
With a solid and reliable support system, single people can make excellent foster parents as they tend to have more time to dedicate to caring for a child and providing them with a safe, supportive family home where they can thrive.
Of course, with Orange Grove, you'll have the support of our professional team and other foster parents around you offering guidance and reassurance. But you'll also need your close family and friends to be by your side throughout your journey – this is especially important for single foster parents.
Fostering is an incredibly rewarding experience, particularly when you see your child come on leaps and bounds. But there will also be days where you take one step forward and three steps back. During these more challenging moments, you'll need the people around you to be supportive, non-judgemental and always happy to pick up the phone and have a chat.
As well as providing emotional support, you may also rely on them for more practical support, like picking up your child from school when your car is being fixed, or taking care of them for a couple of hours on the odd occasion that you have to work late.
8 Ways to create a support network as a single

foster parent
If you are about to start your fostering journey as a single parent, then there are several things that you can do to build your support network for both you and any child you welcome into your home.
1) Reach out to family and friends
If you have a close-knit circle of family and friends, it's worth reaching out to them before you start fostering and letting them know about your plans.
If you know that your parents, siblings, and other family members are going to support you no matter what you choose to do, then it makes sense to involve them as much as possible in your fostering journey.
Not only is it great for you to have a family support network of people that you can call on whenever you need help, but it's also really healthy for the children in your care to be able to see and be a part of a strong, caring family unit who support one another.
As a single foster parent, support groups can be your best friend. At Orange Grove, we host regular support groups at each of our offices so you can meet other local foster parents.
Fostering is such a unique role that many people – even parents - won't truly understand what it's like to spend a day in your shoes. But other foster parents get it, they know what it's like to foster and can offer incredible advice or just be a listening ear.
Don't shy away from other types of parent groups, too. For example, local groups for parents of children at your child's school can be an ideal way to meet other parents, foster parents and adoptive parents in your area, strengthen your social support system and learn more about the children the child in your care is spending their time with each day at school.
3) Don't be afraid to ask for help
Becoming a foster parent is a big step in your life, especially if you are used to being single and not having anybody who relies on you. Because of this, nobody is expecting you to be able to do it all immediately!
As a single foster parent, you're going to need immediate short-term help with getting your home set up to welcome a child into your home and helping them get settled in, and you're also going to need some long-term support from people who you know that you can trust and rely on.
Don't be afraid to simply ask when you are struggling to do something alone and say 'yes' when somebody makes an offer of help.
4) Be clear about what you need
While building a habit of accepting offers of help, it's also worth being clear when it comes to what you need in terms of support and assistance.
Chances are that there are wonderful people in your life, such as family members and friends, who you know would jump at the chance to be supportive of you as a foster parent – but they may not always know what you need, or they might be vague when they offer to help you.
Don't be afraid to get specific when you ask for what you need, or when accepting an offer of help. If you're going to need somebody to pick up your child on Wednesdays, then ask for that!
Being more specific helps you get support faster and will make it easier for you and the people in your support network to get into a regular routine that works for everybody.
Consider moving closer to family
If you are thinking about moving home, then moving to be closer to your family might be an ideal option if you are going to be welcoming a child into your home.
For the majority of single foster parents, your family members are going to be the most trustworthy and reliable support network that you have access to. Your parents, brothers and sisters are already invested in you and care about you.
If you don't already live close to your family, then it can be worth a move to be nearer to them so that they can be more supportive of you in a practical way when it comes to your fostering journey.
6) Look for role models for your child
The child you welcome into your home deserves to be surrounded by all the support they can get, and some excellent role models for them as they enter this chapter of their life with you.
Whether you are looking for support from friends, support groups, or professionals in your area such as sports coaches for kids, approach any networking that you do with the intention of providing strong, supportive people who are great role models for the child in your care.
Seeking out role models in your local community is especially important if you are caring for a young person from a different ethnicity, race or religion.
You could take the child in your care to their place of worship or find a local association that brings together and supports people from your child's ethnic background (e.g. United African Association). This will help them engage with even more people who have similar physical characteristics and cultural preferences (such as food and music), speak the same language, or share the same beliefs and values – all of which can have a positive impact on their sense of self.
Take advantage of the resources that are available in your community to find the right people.
You will also likely need additional support from your workplace if you are thinking of embarking on a journey as a single foster parent.
While you can work and foster a child, you will need to think about the number of hours that your work takes, and if it is flexible enough for you to put your responsibilities as a foster parent first.
A conversation with your boss about the kind of support that you can get from your workplace as you become a foster parent is always worth it. Many workplaces will offer leave so that you can spend some time with a child joining your family and get to know them when they first arrive.
You may also want to consider asking for a remote working setup, or flexible hours so that you can more easily attend to the needs of the child in your care such as school pick-up and drop-offs and meeting with professionals and birth families.
If you have any questions or concerns around working and fostering, then speak with one of our friendly fostering advisors.
While building a strong support network is crucial as a single foster parent, you should always make sure that you are your own greatest source of support.
Getting support from others gives you the chance to look after yourself and spend some time just for you, recharging your batteries doing things you enjoy such as going to the gym or meeting with friends, so you can better be there for the child in your care.
Getting professional support for yourself can also be worth it. There is no shame in seeking counselling, for example, to help you talk through the challenges of being a single foster parent and better manage your emotions, anxieties, and any fears that you might have.
Single people can make excellent foster parents. And if you and the child you welcome into your home are going to be a little family by yourselves, there is a lot of support available to you.
Ready to start your fostering journey?
By phone
One of our team is available to talk to you over the phone to answer any of your fostering queries.
Enquire online
You can get in touch by filling out our online enquiry form with any queries that you may have.
Your local office
We have local teams covering most of England. Find your local office today.