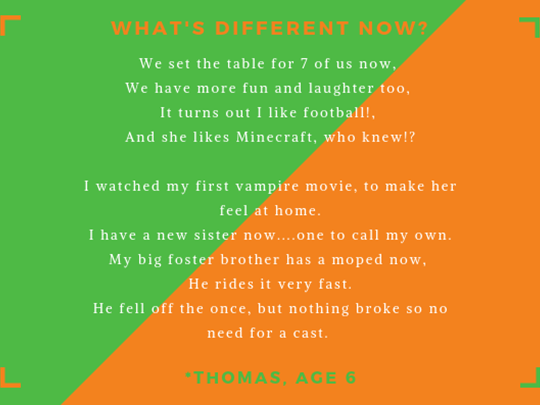 As National Poetry Day began to approach we launched a Poetry Competition for all of our foster children and birth children to take part in.
National Poetry Day is a UK wide celebration of poetry and all things poetical. It is about everybody sharing, reading, writing and enjoying poetry.
With this years theme being 'change' we asked the children to write about how foster care has changed their life for the chance to win a £10 voucher of their choice.
6-year-old Thomas, who lives with foster children, wrote a powerful poem outlining the changes fostering has had on his life – Thomas reflects on how being a part of a foster family has allowed him to have new siblings who he can learn new hobbies from.
Thomas entitled his poem What's Different Now?
We set the table for 7 of us now,
We have more fun and laughter too,
It turns out I like football!,
And she likes Minecraft, who knew!?
I watched my first vampire movie, to make her feel at home.
I have a new sister now….one to call my own.
My big foster brother has a moped now,
He rides it very fast.
He fell off the once, but nothing broke so no need for a cast.
It's great for the children to reflect on the changes they've faced throughout their lives. Judging by the standard of poems, children have really shown an appetite for poetry and a willingness to deliver an accurate account of their childhood.
Thomas' poem particularly stood out as it truly demonstrates the impact fostering can have on a birth child's life. Well done Thomas!