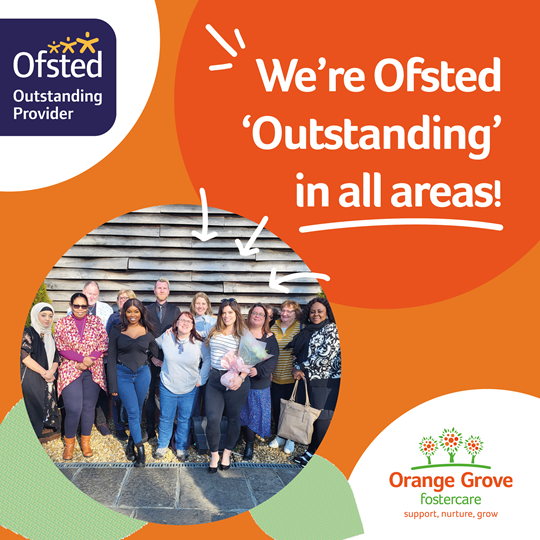 We're excited to announce that our Southern Counties' fostering team has received an 'Outstanding' rating across all areas in its most recent Ofsted review for the second time in a row.
In the report, the team were commended for delivering 'creative and practical' support for the 100 children in its care across 76 fostering households.
The report said that children felt safe knowing that their foster parents cared about them and often children wanted to remain with their foster families even after reaching independence and adulthood.
When asked about their foster parents, one child said: "They're just really nice and I can talk to them." Another child said: "I do not argue with them because they explain things and I love them too much."
One of the many highlights of the Ofsted report said: "All children are accessing education. There is excellent communication with partner agencies to ensure that there is a whole-child approach to enabling children to achieve academic success."
Foster parents told inspectors that they feel supported, listened to, and heard. The team also has appropriate measures in place to prevent placement breakdown, which can be detrimental to children and young people.
Ofsted found foster carers' commitment to care to be exemplary and that children are offered both emotional and practical support when it's needed.
Read the full inspection report here
James McGarrigle, registered manager at Orange Grove Southern Counties, said; "The results of our most recent Ofsted report are fantastic, and are down to the hard work of the team and our amazing foster parents.
"It is a huge achievement to have delivered an Outstanding result in two consecutive inspections.
"We work hard to provide tailored support to each of the children and young people in our care, as well as to their foster families. Ofsted highlighted our commitment to education and meeting cultural needs which I'm particularly proud of."
We provide emergency, short-term, long-term, and parent-and-child placements for children up to the age of 18, and also support young adults who have moved onto independence, but wish to remain with their foster parents.
There are expected to be more than 100,000 children in care by 2025 which means there is a growing need for more foster parents throughout the UK. Our Southern Counties team supports children across South London, Essex, and all across the South of England.
We provide around-the-clock local support to all of our foster parents with a 24/7 helpline, so there is always someone on hand to help and advise when supporting their children and young people. So if you're interested in joining our team, then get in touch today.