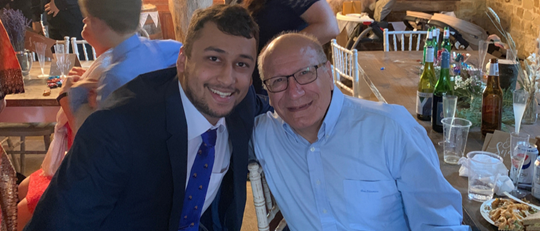 Zacc Gesto was first placed with Ruth and Suso over 15 years ago when he was only four and a half years old. At the age of 10, Zacc lost his foster mother Ruth, leaving Suso to look after Zacc and the couple's other foster children alone.
Today, after completing his first year at university, Zacc is filled with many dreams and aspirations for the future, with Suso being one of his main inspirations:
"Suso doesn't leave anyone behind and makes sure everyone is well looked after before he thinks about himself. I am extremely lucky to have been placed with him, who is a real inspiration to anyone who knows his story."
He added: "Suso has always been a figure of aspiration, guidance and support and he is not the only one who has helped in my life, his children have been a massive reason for my successes also."
Suso's guidance and encouragement have always been essential in Zacc's life growing up and particularly important during his first university year.
Zacc said: "Suso has taught me so many life skills, from cooking and cleaning, to deeper lessons, such as how to conduct yourself and be confident."
He added: "In the early university stages, he supported me in so many ways, by taking me to all the open days I wanted to go to, helping me to ask the questions that mattered and, most importantly, he told me that whatever university I decided to join would be the right one as I'd always have his support."
Zacc often talks about the impact foster care has had on his life and how Suso and his family's love and patience played a crucial role in guiding him through his journey:
"Foster care makes up a large percentage of who I am and I have never tried to hide this. It's not a bad thing or something to be embarrassed about. In fact, being in care was the best thing that ever happened to me."
Zacc has recently completed his first year at university studying Law and is currently enjoying a very busy summer, with him attending law conferences in Warwick University and a week placement at a top commercial law firm, where he hopes to gain an even deeper set of transferable skills.
Zacc said: "The summer has been just as much about work as it has been about fun. We have recently gone on holiday to celebrate Suso's 70th birthday but it was also an opportunity to say a huge thank you for everything he has done for me."
Studying law has helped awaken childhood wishes and dreams: Zacc recalls wanting to "put the bad guys away" since the age of five. He said: "Back then, I didn't use the word lawyer and it was only later that I realised I meant as a barrister."
Zacc is still unsure of what area he'd like to focus on, but he is very interested in family law, which he thinks may be due to his experiences growing up.
When asked about his future aspirations, Zacc said: "More recently, I have wanted to become a judge in conjunction with a barrister. I'm also interested in politics and like most, the end goal is to eventually serve as Prime Minister."
He added: "I have big aspirations, but I genuinely believe that if I truly want something, then I can do it. It does not matter that I am a care leaver. I know there may be a few extra hurdles to jump, but I was given long legs for a reason, I plan to use them to jump."
Zacc was supported by our Southern Counties team, who support foster carers in West Sussex, East Sussex, Surrey and Kent. If you'd like to transform the lives of children in your local community, then we'd love to hear from you.
Simply fill in our online form or give us a call on 0800 3698513 today – we look forward to helping you on your fostering journey.