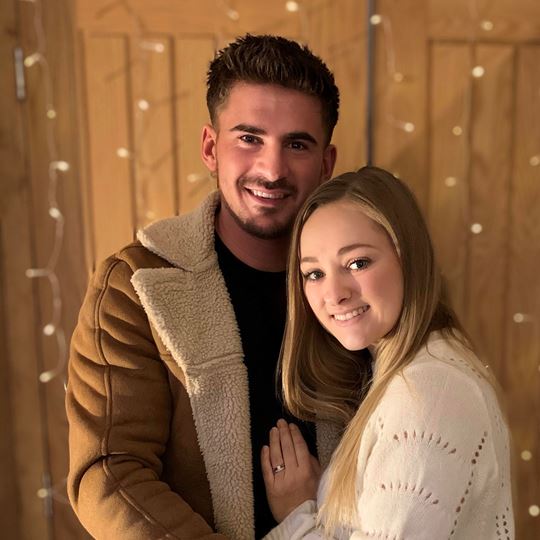 Alarna and Jermayne's journey into fostering started when they were at school. Jermayne had a close friend who was in care and he would regularly go and visit him at his foster carers home or at a residential home. 
Through sharing that personal experience with partner Alarna, fostering became an ambition for the couple, with the couple eager to give other children the chance at having a loving and supportive home.
In July 2019, their ambition was realised. They were approved as foster carers and welcomed their first child, an emergency sibling placement.
"We had only just been approved and we were asked if we could care for a young girl and her younger brother," explains Alarna. "We immediately said yes! The boy was only aged 1 so he needed a cot. We didn't have one but we just made it work."
Both Alarna and Jermayne are just 26 years old and have no children of their own. "To a degree, it was harder for us not having had children, but we're part of a huge family so we've had experience with little ones as there are always plenty of children running around."
"By having an emergency placement, we learnt quickly and that was a positive for us; we hit the ground running, I think we've gained different parenting values than we would have done if we were biological parents. So, in some ways, it's almost better that we didn't have children of our own before fostering."
However, their choice to foster doesn't mean that Alarna and Jermayne won't consider having their own children in the future.
"Obviously, now we feel better prepared to have our own children but it's not something we're considering at the moment. That's not to say it doesn't mean we can't or won't have our own children in the future. Fostering is what we want to do but if we decide to have our own, we know Orange Grove will help us on that journey."
The flexibility and support provided by Orange Grove Fostercare has been a big help for the couple. "It's made such a difference that we have a social worker who is always there for us. Any questions we have, they get back to us straight away, and the team are always doing things to ensure that we don't feel alone."
So far on their fostering journey, they've already experienced plenty of significant moments. Alarna reveals; "A young girl we support has started school. She's gaining so much confidence and is learning so fast. It feels like every day she comes home and tells us something new."
"Her younger brother has come on leaps and bounds too. He's sprouted into a little toddler and is becoming cheekier by the day. It's wonderful to see considering how clingy he used to be when he first came home. Now, he's playing happily with other children in groups."
With Christmas coming up, there's set to be even more magic for the family. The festivities start with the young boy's birthday, a day that will mark plenty of excitement for the family. "He loves singing his heart out for the birthday song while his sister loves giving gifts and is fascinated by balloons," explains Alarna.
"Very soon, we'll be taking the kids to choose a Christmas tree and we'll spend time decorating. We're most excited to be making Santa come alive – we'll be doing as much as we can to make the next month as magical as possible."
Alarna and Jermayne have planned a very family-focused Christmas. "Normally on Christmas Eve, we take all of our nieces and nephews to the panto. This year, we're really excited to include both little ones with the tradition! Then, when we get home, we'll give them Christmas boxes with some pyjamas and a book."
"On the big day, our whole family will be coming round for Christmas dinner and to play some games."
The couple's younger age has been a real benefit in helping them do absolutely everything with their children. For example, in the next month, they're planning on going to Thomasland where they'll be meeting Santa. "As we're still young and full of energy, we can really enjoy the experience with them and go on plenty of rides together."
Alarna continues; "Realistically, we'd be thinking about having children at this age anyway, so it's not all that strange for people to see us with the little ones. Both Jermayne and I think it's important for others to consider fostering when people are at a younger age."
"We all have so much to give, so why not do it now?"
The two have this to say to anyone thinking about fostering: "If you're considering it, there's no harm in just doing it. The initial process is long, but it's to make sure you're the right person. The rewards and enjoyment with those children afterwards mean that you barely even remember it."
If you would like to know more about how to become a foster carer or information on providing short-term foster care or fostering sibling, get in touch with a member of our team on 0800 369 8513.