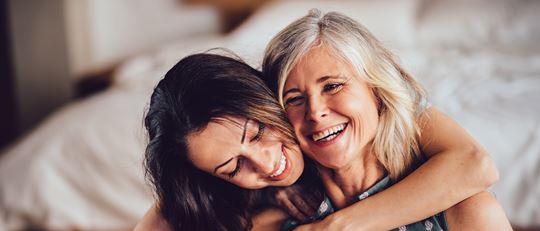 Dawn started her fostering career over 26 years ago. She'd always adored children and had spent many years babysitting and childminding. Dawn always felt that caring for children was her 'calling' in life, and after having her own children she made the decision to become a foster carer.
Since joining Orange Grove in 2004, she's looked after over 30 children and young people with a variety of different needs. Some of her placements included siblings, parent and child placements, children with special education needs, as well as those with mental and chronic health needs.
Dawn has two adult daughters of her own who have supported her throughout. But they aren't the only people who call her 'mum'.
"One young person I fostered, now an adult in his thirties, is still in my life today and calls me 'mum'. I'm also known as 'nanny' to his daughter. It makes me so proud to see what he has achieved," commented Dawn.
"I'm also 'nanny' to two other beautiful children, whose mum I looked after many moons ago. I was honoured to be by her side at her wedding last year as her mum. She's grown into such a happy, stable adult. That's what fostering is all about."
Dawn has experienced so much as a Foster Carer, and her personal life too. Her world was turned upside down after losing her first child. But today, she uses this experience to help children suffering from loss and trauma, and helps them through the different waves of emotion.
Dawn, describes her career as a 'way of life' and not only does she transform the lives of young people who come into her home, but they continue to change hers too.
Talking about her experience with Orange Grove, Dawn said, "I love being an Orange Grove carer. I feel well supported and valued".
It's estimated that fostering services need to recruit a further 5,900 foster families in the UK, over the next 12 months. If you'd like to learn more about the role of a Foster Carer, then please get in touch with our friendly team – we'd love to hear from you.