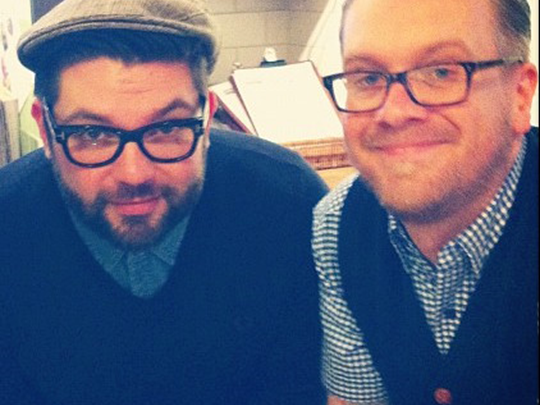 James and Simon are coming up to their second fostering anniversary with Orange Grove and have shared their fostering journey with us so far.
We have been together for 11 years and married for almost 3. After speaking about fostering for years, we decided two years ago that now was the time to take the plunge and find out more. Simon previously worked as a Youth Worker and Diversional Play Specialist, and although I had never had formal professional training, I have always loved kids.
We researched local authority and several independent agencies and it was Orange Grove's welcoming and friendly website that made us decide to give them a call – we also noticed a photo of a same-sex couple on their web page, so knew there would be no issue with us applying to foster with them.
After speaking to Orange Grove over the phone, our good feeling was reinforced as we went full steam ahead. We were approved at panel in November 2016 and our first placement arrived just 2 days later.
We've had 3 placements so far, and while each has been challenging in their own way, we are so glad we became foster carers. Our current foster child has lived with us for 15 months and has become a huge part of life for our entire family.
Orange Grove has been fantastic – we are lucky in that the Social Worker who supported and guided us through our training and assessment, has continued with us as our Supervising Social Worker. She really is great and has been a fantastic support. Our Family Support Worker has also been an amazing help in some of the more challenging and emotional times, but we are so glad that we embarked on this new chapter of our life with Orange Grove.
The Orange Grove team and other carers in our area are like an extended family, but one that understands exactly what you are going through, so there is always someone you can talk to who gets it. The training your receive is extensive and ongoing – although you learn a lot from the children themselves – while you can prepare for your role as a foster carer, you can never be fully prepared, which is why we're especially grateful for the team and support around us.
Although we never had any real concerns about whether being LGBT would affect our progress as carers or placements, it really hasn't been an issue at all with Orange Grove. In fact, we were one of two same-sex couples on our initial Skills to Foster training course.
Whether you're LGBTQ, a straight couple, or single and fostering is something you've considered, we can't recommend enough that you go ahead and find out more – give Orange Grove a call for a chat!
It's estimated that fostering services need to recruit a further 5,900 foster families in the next 12 months in the UK. If you'd like to learn more about the role of a foster carer, then please get in touch with our friendly team – we'd love to hear from you.