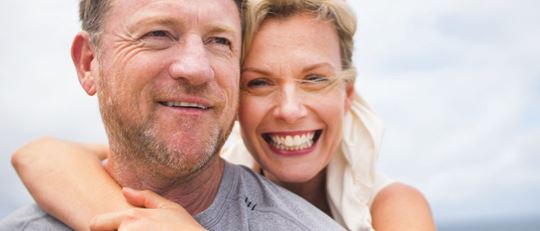 Lindsey and Scott, based in Merseyside, have always considered fostering. With many of their friends working as foster carers, they heard and saw first-hand the positive and rewarding experiences being felt by both their carer friends and their children.
As a result, it's always felt like something they wanted to do, but simply couldn't. Their mother lived with them, making space an issue, and they had their own daughter to focus on.
Sadly, Lindsey's mother passed away, but ringing in their ears was what she would frequently tell them; "You'd be the perfect foster carers for children who need help." Lindsey and Scott were always surrounded by supportive family life, and her mother knew it would be the perfect environment for children in need of extra love and support.
Once their own daughter moved out, Lindsey and Scott started their training. "Nothing was easy at the beginning. There were a lot of courses but looking back, it was all worth it. Without going through those courses, I definitely don't think we'd be prepared for everything we've faced over the past few years."
"Fostering does require a lot of thinking on the spot, but without the training, we wouldn't have the mindset to cope with everything as well as we can."
Shortly after being approved, they welcomed their first foster child, who was a 14-year-old girl on a temporary placement. With her Nan unable to cope with her behaviour, she was put into foster care with Lindsey and Scott. She provided the biggest learning curve for the foster carers.
Over the course of a couple of weeks, Lindsey and Scott worked hard to support the young girl through the change and faced a few struggles; "There were a few disagreements, but we learnt that the best way to deal with things was by letting everyone calm down and returning to the situation with a clear head."
In the end, she wouldn't settle and wanted to move closer to her friends, so she moved to live with her auntie. Afterwards, they welcomed a quiet 16-year-old boy into their family home last year. When arguments arise with teenagers, they apply the same principles and focus on issues with a clear head. However, for the most part, their house is filled with laughter.
He'd had unfortunate experiences in his childhood and had become very reserved over the years. But, with Lindsey and Scott's help, he's become more open. "We've tried to give him the best possible life experiences. He's been enjoying snooker lessons, drumming lessons and travel. He's also excelling at college on his plumbing course. Slowly, it's working to build his self-confidence."
"Every week he's making a difference to our lives, and we're making a difference to his. After having unfortunate childhood experiences, we hope we've enriched his life by giving him the love he needs as well as more practical support."
When the teenager first entered their home, he was unable to use a knife and fork; "We used a block of butter as it was easier for him to cut up. Slowly but surely, he's learnt how to use the cutlery and now uses them at mealtimes."
Now, as the teen looks towards the future with his 18th birthday arriving, he's decided to 'Stay Put' with Lindsey and Scott. In terms of this arrangement, he will be welcome to stay with the couple until the age of 21, rather than leaving at the age of 18.
As part of this, Lindsey and Scott have put a lot of time and effort into preparing him for adult life. "We've taught him how to sew, budget, cook and save money as much as possible really. It is hard because he's not living in that situation, but he's getting used to cleaning and gardening too."
Even in just a few years, they've found fostering to be an exceptional experience. "Fostering has been so worthwhile and it's been emotionally rewarding to see the positive influence we've had on all three children.  We're so glad we've done it and wouldn't change a thing."
Lindsey continued; "The best thing we experience is when other people tell us how much of a change they can see in our foster son. Living with him every day, we don't notice everything, but our hairdresser has told us how he has started being more confident, looking her in the eye and talking more. It's a huge triumph for us."
To those thinking of becoming a foster carer, Lindsey advises; "Don't wait to do it! I wish I did it when I was younger so I had more energy, as it can be tough at times. Also, do as much research as possible before you start the process and be prepared for all the training – it can be quite difficult if you work full time."
"But overall, never give up, keep trying – you can make a difference."
If you'd like to transform the lives of children in your local community, then we'd love to hear from you. Simply fill in our online form or give us a call on 0800 3698513 today – we look forward to helping you on your fostering journey.