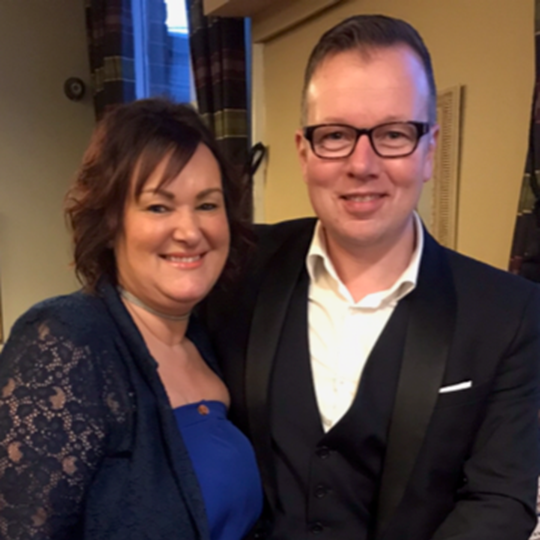 Once you've been approved as a foster parent, the past few months of assessment, form filling and checks are suddenly behind you and you are now ready to welcome a child into your family and home. Family congratulate you and the spare room is ready for your new arrival and then what?
Michelle and Andy have had their own child fly the nest already, and now at the age of 48 and 51 are looking to change the lives of young people in need.
The couple have fully adapted to life as foster parents in less than 12 months and share their journey of welcoming their new foster children into their home.
The referral
We were approved as foster parents in July 2019 and since then we have had a child stay with us on a short-term foster placement for six weeks and have looked after two sisters on respite care, which gave us a good introduction into fostering.
Shortly after, we were asked to provide a home for two sisters aged 7 and 9, who have completed our family.
Settling in
We were invited to meet the girls whilst they were still being cared for by other foster parents. At this point, they had the opportunity to view our family book and familiarise themselves with us.
A week before they moved in, we invited them round to our home for dinner, which proved to be a really useful bonding session, just before they made the move permanently.
Meanwhile, we decorated their bedroom and created a little family room, so they had their own living area, which provided them with their own privacy and space.
When the girls joined us in January this year, it took a few months for them to settle in and establish new routines. We worked with the girls to establish a routine that suited us all.
The girls are enjoying home life and they now understand the rules and the boundaries, which has made day to day life easier for us all.
They were adapting really well in their new environment and then we had the outbreak of coronavirus.
It was a challenging time for everyone, never mind for two sisters, who were trying to find comfort in their new home.
Establishing routines
The girls are now settled in full routines, and their general behaviour is significantly better. Routine is particularly important for the girls because it creates a sense of structure, and knowing what to expect can quickly build trust and a feeling of security.
The most difficult thing has been trying to keep the girls occupied throughout the pandemic and ensuring they were able to adapt to homeschooling.

After a few weeks of homeschooling, their school kindly said they would allow the girls to go back to school during the COVID crisis. Therefore, it wasn't long until the girls were back enjoying a little bit of structure again.
Creating an environment where your foster children can feel comfortable and safe is important but can also take time.
Being sisters, they definitely help support each other, but as you'd expect they have their moments. It's been lovely to see their personalities shine through and we have enjoyed having family to resolve any issues they may have.
We'll continue to foster for as long as we can. Seeing how the children have developed is definitely the best part about fostering. I'm glad we decided to take this path, it's been 10 years in the making, but a decision we're so glad we made.
If you'd like to transform the lives of children in your local community, then we'd love to hear from you. Simply fill in our online form or give us a call on 0800 3698513 today – we look forward to helping you on your fostering journey.