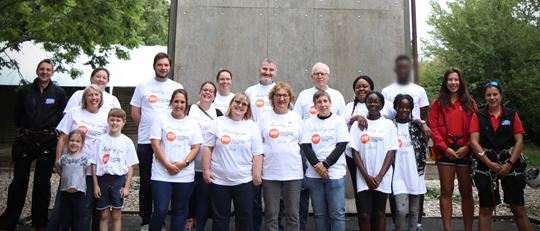 A team of daredevil staff and young people from our Southern Counties team took part in a charity abseil recently at Blackland Farm in East Grinstead.
The team, which included foster carers, looked after children, and office staff were raising money for Centrepoint, a national charity that looks after more than 10,000 homeless young people each year.
Our Southern Counties team hold an annual charity fundraising event, each year choosing a different charity that is close to the staff and carers' hearts.
Centrepoint was picked as the 2018 organisation and the money is still rolling in for the national charity.
In 2015, the fostering agency walked over the roof of the Millennium Dome for the Sussex and Kent Air Ambulance Service to support a carer whose life was saved by the air ambulance following a serious car crash.
The following year, they sponsored the Furngate Under 10s Football Team, buying two years' worth of kit for the team that was coached by the son of one of their carers.
Finally, in 2017, the team hosted a sponsored walk to raise money for St Michael's Hospice in Hastings, where the daughter of a member of the team spent her final days.
If you would like to know more about how to become a foster carer or information on providing emergency foster care, get in touch with a member of our team on 0800 369 8513.
Andy Purnell, Registered Manager, commented: "Centrepoint is such a brilliant charity that fits really well with foster care and our visions and values. I previously supported a young girl who was picked up and supported by Centrepoint because she was homeless in London. The outcome was good and she was given a great home with a foster family.
"Her life has changed significantly for the better as a result of that. If she hadn't been supported by Centrepoint it could have been very different, she was so vulnerable."
Peter Walters from Centrepoint said: "Family breakdown, poor mental health, abuse and violence – these are some of the reasons young people become homeless. Centrepoint provides more than just a safe, warm and stable place to live. We help young people tackle physical and mental health issues, develop independent living skills, and access education, employment and training opportunities.
Our work is challenging, but we're driven by the knowledge that we can help homeless young people reach their full potential. You can help us do this."
If you would like to find out more about fostering in West Sussex, then get in touch with our friendly team.
Ready to start your fostering journey?
By phone
One of our team is available to talk to you over the phone to answer any of your fostering queries.
Enquire online
You can get in touch by filling out our online enquiry form with any queries that you may have.
Your local office
We have local teams covering most of England. Find your local office today.