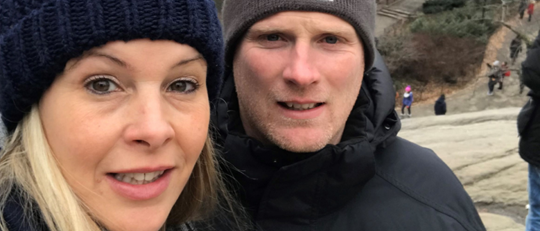 Five years ago, Fiona was working as a prison officer, while Jonathon worked in Police custody in the intelligence department. On a daily occurrence, the couple both experienced working with children who had a lack of care and guidance in their life.

This quickly became a huge eye-opener for them both and they soon realised they needed to give children a stable home in which they could thrive in.

Fiona commented: "Every day we were faced with vulnerable children who had difficult starts in life and this was just in Northamptonshire alone. Jonathon and I both believed we had the capacity to give a child a chance of a better life and lead them along the right path."

"At first, we were slightly apprehensive as to how this would affect our family life, but so far it's only had a positive impact."
The couple's youngest son, Dyllan who is 9-years-old absolutely adores his foster brother. "It's amazing to see the brotherly bond they've built over the last five years, they play together and have lots of fun," said Fiona.
She added: "Dyllan has an older birth brother, Austin, but it's great for him to have another brother to play with."

Fiona and Jonathon always stress the importance of family time and ensure their children have plenty of life experiences.

Most recently they took their foster child to Florida for a family holiday and although he relished the theme parks and the huge hamburgers, he enjoyed the fact that they were all together as a family.
"That's the joy you get – when you see how small things like that have given so much pleasure and comfort to a child," Fiona explains.
"They are things that most of us take for granted, but many of these children have never had little luxuries, never been on an aeroplane, never been to a party."

Fiona had Endometriosis, so there was a chance her and Jonathon may not have been able to have children.

Fiona commented, "Jonathon wondered if he'd ever get a Father's Day card, let alone one from their foster child."
The couple were both delighted and felt a real sense of achievement when he went to the shop to buy a Father's Day card.

Fiona, said: "It was a true testament to the hard work we put into caring for him each day. We don't expect him to call us 'Mum' or 'Dad', but for Jonathon to receive a Father's Day card was just extremely rewarding. It really shows how well he fits into the family."

Fiona and Jonathon have certainly developed a strong bond with their foster child.

"We always want him to be part of our life, not only for us but for our children, they wouldn't be without him."
If you're interested in fostering in Northampton or across the UK, then get in touch with our team today. Simply fill in our online form and we'll be in touch with information on how to get started.