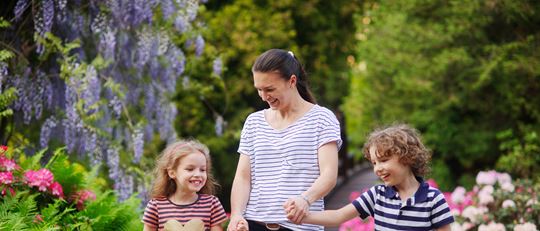 Nat's passion for helping young people became a reality when she studied at university to become a teacher. Starting out in a mainstream school before quickly moving to a special needs school, Nat worked with many students who were in foster care.
Nat was impressed by the support given to the children from carers and thought she could help make a difference to young children's lives.
She said: "In the 14 years I've been working with children, I witnessed some great support from carers and this made me realise that young people need all the support they can get.

"I knew that I had the time and energy to help young people on the right path in life."
Now an approved foster carer since January, Nat has looked after two young boys on respite. Respite provides long term carers the chance of a break without disrupting the child's care.
Looking after two young boys isn't unusual for Natalie as she's comfortable with a class of 13 children. She added: "I work with young people every day and often take groups away on residential trips.
"The only challenge with this is that one child wants your full attention 24/7, whereas you don't get that with a class of 13 children."

Talking about the impact she's had on the children's lives in the last eight months, Nat said: "I'd like to think that no matter how long I'm in their life for, I can help them in some way, whether that be helping them to ride their bike, teaching them to swim or improving their self-esteem. It's all equally important to me."
Nat says she wouldn't swap being a foster carer for anything but firmly believes that her experience of working with children has meant she could hit the ground running.
She added: "If you're thinking of fostering, my advice would be to do it! Nothing really phases me anymore because of the experience I've gained through years of working with children.
"Nevertheless, if you haven't worked with children, it is still possible, attack it with an open mind."
Teresa is fostering in Hertfordshire, as part of our Three Shires fostering team. If you'd like to transform the lives of children in your local community, then we'd love to hear from you.
Simply fill in our online form or give us a call on 0800 3698513 today – we look forward to helping you on your fostering journey.